MATRUSRI DAVALBA AYURVED HOSPITAL
Matrusri Davalba Ayurved Hospital, a 60-bedded hospital having 7 speciality clinics equipped with modern infrastructure and competent Ayurveda practitioners from various specialities. Being situated beside National Highwayand accessible by patients from neighbouring 12 villages, the hospital has an average daily Out-patient census of 130 patients and In-patient bed occupancy of 45 patients.
1. To promote the Growth and Development of Ayurveda.
2. To provide Medical Care through Ayurvedic Systems of Medicine to the suffering humanity.
3. To provide and assist in providing service and facilities of highest order for Research, Evolution, Training, Consultation, and Guidance to Ayurvedic System of Medicine.
1. Kaya Chikitsa (Internal Medicine)
2. Panchakarma (Penta Bio-Purification Methods)
3. Stri Roga and Prasuti Tantra (Gynaecology and Obstetrics)
4. Bala Roga (Pediatrics)
5. Shalakya Tantra (ENT, Ophthalmology and Dentistry)
6. Shalya Tantra (Surgery)
7. Swastha Vritta (Preventive and Social Medicine)
MODERN MEDICAL STAFF (ON CALL)
| | | | |
| --- | --- | --- | --- |
| Sr. | Name Of The Employee | Qualification | Designation |
| 1 | Dr. Dharmendra Amrutlal Nayak | M. D. | Medical Specialist |
| 2 | Dr. Sejal Girishkumar Shah | M. S. | Surgical Specialist |
| 3 | Dr. Shweta Sejal Shah | M. D. | Gynecologist |
| 4 | Dr. Nikhil Ganesh Chafekar | M. D. | Pathologist |
| 5 | Dr. Dhaval Trivedi | M. D. | Anesthesiologist |
| 6 | Dr. Nihar Kunjbihari Trivedi | M. D. | Opthamologist |
| 7 | Dr. Nitin Devjibhai Prajapati | M. D. | Pediatrician |
| 8 | Dr. Himaniben Mukeshbhai Patel | M. D. | Radiologist |
| 9 | Dr. Jarifbhai Jakirhusen Mayat | B. D. S. | Dentist |
MODERN MEDICAL STAFF (FULL TIME)
| | | | |
| --- | --- | --- | --- |
| Sr. | Name Of The Employee | Qualification | Designation |
| 1 | Dr. Madhuri Bhoopal Singh Gaur | M. P. T. | Physiotherapist |
| 2 | Kalpesh Chhaganbhai Chauhan | I. T. I. | X – Ray Technician  Hospital |
MEDICAL OFFICERS
| | | |
| --- | --- | --- |
| Sr. | Name Of The Employee | Designation |
| 1 | Dr. Piyush Parshottambhai Khunt | R. M. O. Kayachikitsa |
| 2 | Dr. Nitesh Chandulal Shah | E. M. O. |
| 3 | Dr. Meetaben Rasiklal Chauhan | E. M. O. |
| 4 | Dr. Himanshu Jagdishbhai Pipaliya | R. S. O.  For Shalya |
| 5 | Dr. Megha Rameshbhai Rathva | R. S.  O, Strirog |
| 6 | Dr. Sanjay Arjanbhai Patel | M. O. Kaumar Bhritya |
| 7 | Dr. Pooja Ashokkumar Modh | M. O. for Strirog |
| 8 | Dr. Hemant Narendrabhai Joshi | House Officer for Panchkarma |
LIST OF CONSULTANTS
| | | |
| --- | --- | --- |
| Sr. | Name Of The Employee | Designation |
| 1 | Dr. Bhushan Anilrao Sonawane | Consultant  Kayachikitsa |
| 2 | Dr. Shweta Bhausaheb Wakchaure | Consultant  Swasthavritta |
| 3 | Dr. Sandeep Vithalrao Mesharam | Consultant Shalya |
| 4 | Dr. Sanmesh Dasharath Phulpagar | Consultant Kaumara Bhritya |
| 5 | Dr. Poonam Prabhakar Khot | Consultant Strirog & Prasuti Tantra |
| 6 | Dr. Akshay  Balraj Vij | Consultant Shalakya |
| 7 | Dr. Pujaben Narendrakumar Shah | Consultant Panchkarma |
NUMBER OF PATIENTS ATTENDED OPD (from 1st Jan 2015 to 31st Dec 2015)

NUMBER OF PATIENTS ATTENDED OPD (from 1st Jan 2016 to 31st Dec 2016)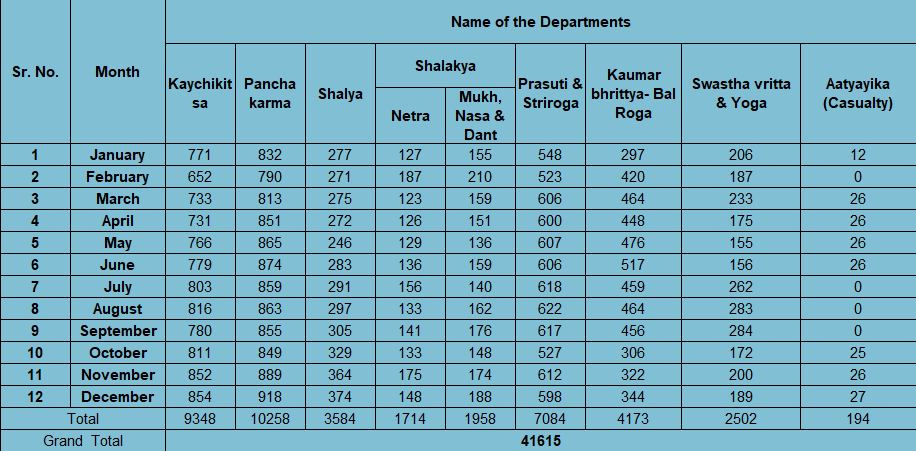 | | |
| --- | --- |
| 1. 24 Hours Medical Service | 2. OPD Treatments under 9 Specialities. |
| 3. Well-furnished IPD with Deluxe & Semi-Deluxe rooms | 4. Anti-natal, Post-natal Consultations & Care |
| 5. General Surgical Procedures | 6. Yoga Therapy |
| 7. Physiotherapy | 8. Body Relaxation Therapies |
| 9. Free Medical Information & Advice | 10. Ayurveda Pharmacy |