Welcome to
KRISHNA AYURVED MEDICAL COLLEGE (KAMC) AND MATRUSRI DAVALBA AYURVED HOSPITAL (MDAH) VADODARA
It gives us immense pleasure to notify to all that by the grace of Lord Ganesha, the BITS Edu Campus that hosted six institutes under the different affiliating universities is making transition to a University by itself vide the Government of Gujarat, Gazette Notification, dated 22nd May 2021 of the inclusion of Drs. Kiran & Pallavi Patel Global University (KPGU), Vadodara, sponsored by Shree Krishna Educational and Charitable Trust, Vadodara as the Private University under the Gujarat Private University (Amendment) Act, 2021 (Gujarat Act No. 15 of 2021).
The vision of our Honorable president Shree Jagdishbhai Patel has led to the achievement of yet another path breaking milestone and the establishment of KPGU, Vadodara shall be marking the opening of the "Gateway to Global Excellence".
Krishna Ayurved Medical College, Vadodara (Krishna Ayurved Medical School) is currently offering Bachelor of Ayurvedic Medicine and Surgery (B.A.M.S) course since Academic Year 2019-20. Course duration of B.A.M.S course is full time 5 and 1/2 years (4 1/2years+ 1 year compulsory rotatory Internship) with granted intake capacity of 60 seats.
The course aims at providing basic education in Ayurveda leading to the degree of B.A.M.S. It aims at preparing graduates of Ayurveda having basic and fundamental knowledge in different subjects of Ayurveda backed up by extensive practical training. The clinical experience in attached Matrushri Davalba Ayurved Hospital develops the students in competent ayurved practitioners. 
Matrushri Davalba Ayurved Hospital is 60 bedded Hospital attached to KAMC established as per norms in 2015. It is well equipped with all facilities like Panchakarma therapy unit, Pathology lab, X-ray unit, Physiotherapy section etc. Krishna Ayurved Medical College, Vadodara is approved by Central Council of Indian Medicine [CCIM] & Department of AYUSH, Ministry of Health & Family Welfare, Government of India, New Delhi.  This College aims for promoting the growth and development of Ayurveda as a model Institute for evolving high standards of teaching, training, research and patient care and also to invoke scientific outlook to the knowledge of Ayurvedic System of Medicine.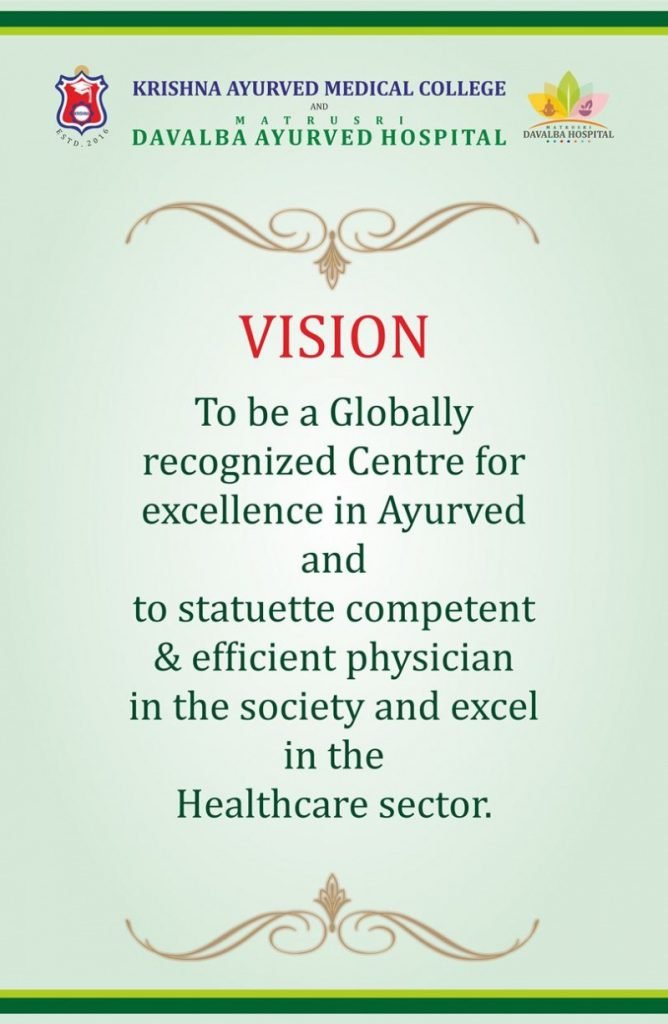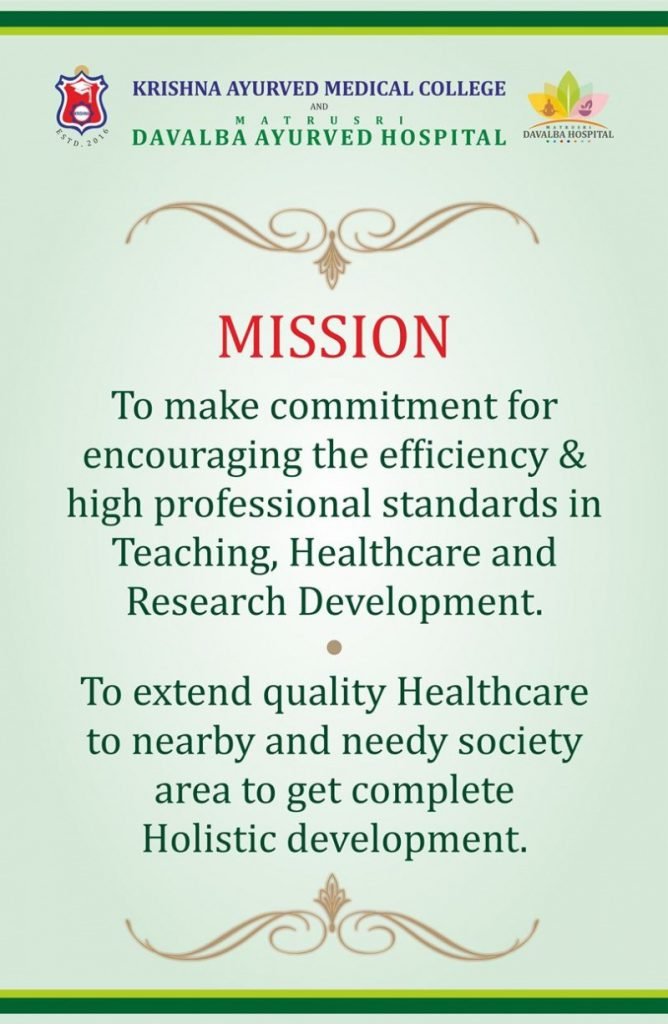 The department of Dravya Guna is maintaining an excellent herbal garden consisting of numerous medicinal plants which are used for preparing medicines.
We have separate hostels for boys and girls which are designed to make you feel at home with healthy and nutritious vegetarian meal.
Best Location,
Infrastructure & Campus
We have a high quality infrastructure as per Central Council of Indian medicine with huge campus area, number of quality laboratories, multi specialist Hospital which provide key parameters of education to Medical students
Quality OPD
& IPD Facilities
This Institute has quality lab which provide high quality Drugs for the Hospital to ensure effective treatment.
Well Equiped Labs
& Diagnostic Facility
We provide end to end support for education by highly qualified Faculty and following the approved syllabus by CCIM New Delhi.
Highly
Experienced Doctors & Teachers
We are associated with well experienced Teachers in the field of education & research, so that students may get experience from them for the service of diseased people